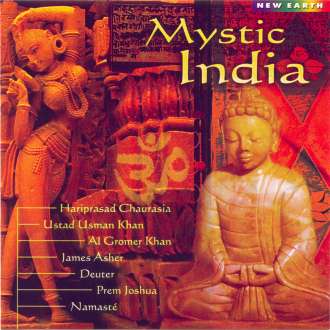 Catalogue #: NE 9913-2
Label: New Earth Records
Year of Release: 2001
Track 1, "Red Desert" and Track 4, "Further East", feature on the James Asher album "Tigers of the Raj".
Mystic India A beautiful compilation of Indian and Indian inspired music, Mystic India is an excellent introduction to the intoxicating sounds of Indian music and instruments. This carefully compiled album features music from Hariprasad Chaurasia, Ustad Usman Khan, Al Gromer Khan, James Asher, Deuter, Prem Joshua and Namaste.