James Asher Tour of the USA 2001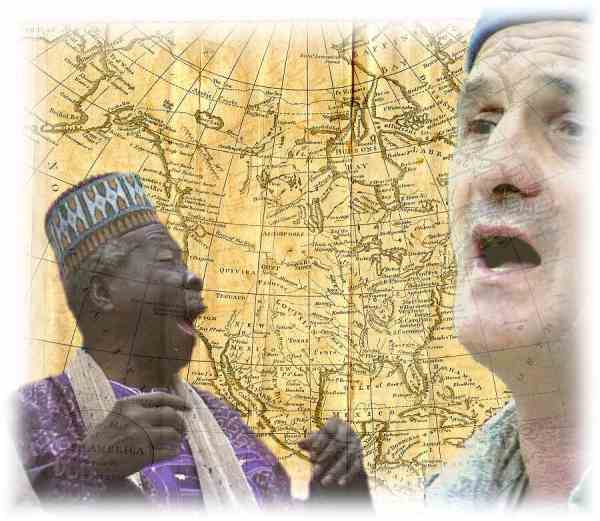 Seattle World Rhythm Festival
It has been my usual pattern during the past few years to make my American expeditions by myself, so it made for a pleasant change on this occasion to be joined by my wife Celia. She was also a great supportive companion both for the trip generally and in helping me set up both the DVCAM and minidisc with the two microphones and their stands for each of the various sessions that we saw and recorded.
Our first port of call was Seattle – to attend the World Rhythm Festival. Here we met up with Arthur Hull, who was the guide and focal point of our entire tour. There was much diverse activity in Seattle, spread out through about seven different locations within a kind of municipal complex.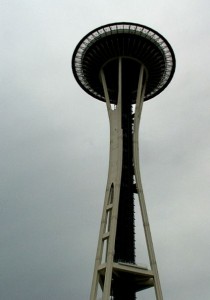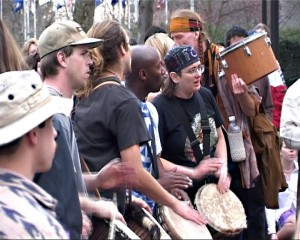 Workshops, demonstrations, outdoor free-range drumming/ drumcircles abounded along with a universal percussion fever! 2001 marks the ninth year for this festival, and it's clearly built up quite a momentum and strong following by the local community. There were many varied performances from a wide range of cultural styles, instrument combinations and age groups.
The high points of Saturday and Sunday's events were the Great Northwest Drumcircles, led by Arthur Hull. About 300 people came to the Saturday event, and there was a hugely infectious buzz emanating from the participants.
Arthur was on his best most exuberant and playful form, and I began on my mission of filming and recording the circle. On the Saturday I positioned myself fairly discreetly towards the edge of the circle facing inward. This gave me a reasonable vantage point, and prevented a sense of being too intrusive, though it was not as effective from both a vision and sound perspective as the next day, when I stationed myself in the centre of the circle, allowing a much clearer view from the hub of the circle.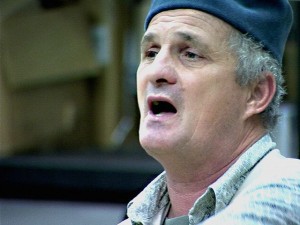 My communication abilities were severely curtailed at this point having contracted laryngitis. Here I was, surrounded by a bunch of great people, unable to persuade my voice to come out with anything more than some bizarre random whispery squeaks! A very strange predicament in which to find yourself!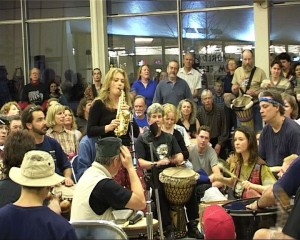 There was a variety of action at the centre of the circle beyond Arthur's congenial conducting as master of ceremonies, including dancing and some saxophone playing by Christine Stevens (from Remo). Somehow the alarm system got triggered so this brought a curious end to the jubilant antics of the Saturday circle.
On the Sunday, the circle was not quite as full as the day before, but driven by just as much enthusiasm. There was honouring of several people made, including John of 'John's Music' who has obviously been central to organising the festival for quite some years.
Travelling to and from the festival we used the city's monorail, which offers a highly impressive spectacular view of the towering 'scrapers' of Seattle. For the two days after the weekend we had fun just being tourists, and especially enjoyed a visit to the harbour area, where 'low-flying fish' are thrown from and to sellers on fish stalls, and there's also a profusion of very intriguing craft goods and art available, amongst a glorious array of fresh fruit and vegetables.
Master Drummer Abdoul Doumbia & New Earth Records
From Seattle we flew to Denver, and then were collected for Boulder, Colorado. Having been here a few times before, there were many friends and contacts to visit. Unfortunately during the stay it was Celia's turn to become unwell, and she spent most of this leg of the trip, resting and recuperating from an evil 'flu.
We were hosted by my good friend Allan Kaplan, who kindly drove us around many different spots in Boulder in a fast-moving magic bus ride of varied adventure. He also hosted a special arrival dinner for us at a local restaurant hot spot, and the warmth of his welcome was very engaging.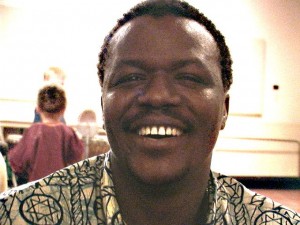 Allan had set up for us to meet the master drummer Abdoul Doumbia from Mali, who is now resident in Boulder. We enjoyed a lunch with him and his friend Karen Marx, herself an excellent drummer and marimba player.
That evening we saw Abdoul give a performance at a community hall with a group of seven players, where the bubbling energy of his playing was just remarkable. Capturing this both on DVCAM and minidisc was a double triumph too, and with acoustics of the hall being more contained than in some of the larger venues we visited, the sound was more potent and present.
The vibrancy of his playing was amazing, and I felt honoured to experience the sparkle of this brilliant performance. Abdoul radiates a natural charm and has a very warm and outgoing personality. I felt excited at the prospect of a future collaboration with him on a CD project, which we discussed and about which we are both enthusiastic.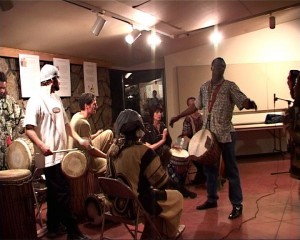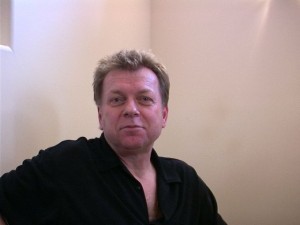 On from Boulder to Santa Fe, New Mexico to visit our friends Bhikkhu and Waduda, owners of the record label New Earth Records. They enjoy an extraordinary location in what feels like huge enchanted desert regions near Santa Fe. Their building is really two in one.
A large TV studio at the front has been converted to provide them with a wonderfully spacious split level open-plan office, decorated with great taste and style, creating a very pleasant working environment.
Adjoining this through a very elegant hallway, bedecked with copious leafy plants, a delightful house, benefiting from great vista views across the desert expanse, and further enhanced by the fabulous sunsets to be seen here, some of which I captured on camera.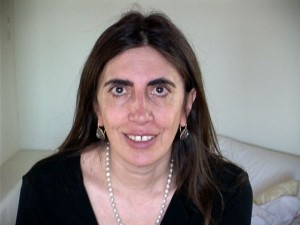 Bhikkhu and Waduda were very hospitable, and showed us around the local town parts of Santa Fe and gave us a taste of the striking 'adobe' architecture predominant in the area. We got a good feel for how Santa Fe has an unusual blend of Spanish / Mexican and American influences. Of course America generally encompasses a wealth of cosmopolitan aspects in itself.
Benefit Concerts for Babatunde Olantunji
After three harassingly long flights we got from Santa Fe to Middletown, New York. Here we re-joined Arthur Hull, for two days of benefit concerts for Babatunde Olantunji. On each day these were preceded by drumcircles, hosted by Arthur, but also involving a wide range of different facilitators.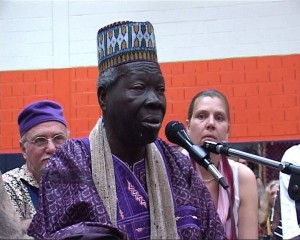 'Facilitator' is a strange term for someone who leads a drumcircle – it sounds too academic and remote somehow, whereas the people occupying this role were anything but, and displayed great commitment and passion for their work.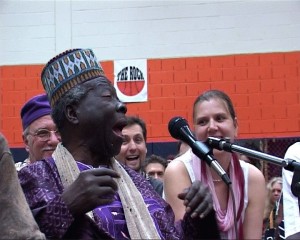 It was fascinating to see how completely varied the styles of presentation were, and the degree of energy and drive that can be engendered and coordinated from such a large group of participants when skilfully handled. On both days the activities of the drumcircle culminated in an appearance by the man whom the two days events were honouring – Babatunde Olantunji.
Deeply revered by the drumming community for his pivotal role in introducing drumming of his style to America fifty years ago, he still has a playful animated manner, and exudes a great and endearing charisma.
The venue for the drumcircles was a large school gym, which made for somewhat boomy acoustics for recording purposes. Of the two concerts following the drumcircles, Saturday's concert was undeniably the stronger. There seems to be such a wealth of artists performing and keen to take part/play homage to Baba, that it was indeed difficult to fit them all in.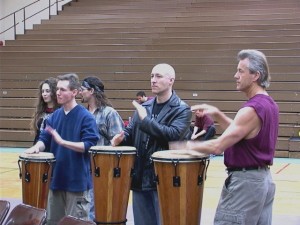 In fact so many that during five hours of concert performances there were no breaks. Though this is of course not ideal, the zest of the performers was really quite something to behold, and some outstanding drumming, singing and dancing unfolded.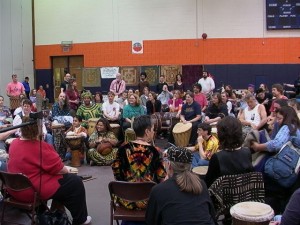 Well worth the uncomfortable plane rides across America to experience! The only problem of the location of Middletown as a venue for these events was that leaving it to go JFK airport seemed to be just about impossible. A severe dearth of local public transport facilities had us eventually opting for a ramshackle beaten up cab, one of whose rear doors was all but fully hanging off the rest of the vehicle. Wild and funky to say the least of it!