James Asher Biography
Early Influences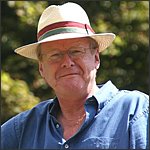 Growing up in a musical family gave me a strong appreciation of music from my earliest times. My father taught music and languages, and I grew up believing it was a natural and intuitive means of expression. From the age of seven I learnt violin, and played in my father's small school orchestra. Then at age 12 it was drums and piano drawing my attention. This in turn led on to a fascination with recording, and many hours of enthusiastic experimenting.
It was exciting to get work as a sound engineer in recording studios, initially just as assistant, and this led to a fascination with recording which has never left me. Learning the technicalities of the recording process captured my imagination, and has proved useful ever since. Though I found much of the work undertaken in commercial studios somewhat unadventurous, it increased my drive to find ways of exploring some of the amazing possibilities for myself. This became possible when I embarked on writing music for music libraries, (soundtrack music). Amongst the twenty or so albums of music I wrote in this area were albums like the Studio G album Abstracts, which later was sampled by the Chemical Brothers and U.N.K.L.E., and is now available as a digital download from iTunes etc. I would enjoy combining acoustic and electronic elements and used instruments like autoharp, violin, mandolin, piano as well as synthesizer.
Peppermint Lump & Eel Pie

In the early recordings I used a Hayman drum kit, and though by modern standards these were not the most hifi of recordings they contain a personality all their own, of which I remain fond. I had sent a tape of some of these to Pete Townshend of the Who, who liked them and in turn produced a single for me called Peppermint Lump (1979), on which he also played guitar and sang, as well as writing the lyrics. It appeared under the artist name Angie, as it was her vocal which was featured over the swirling tape delayed bouncing piano that made up the piece.
At the time Pete was working out of a studio in Twickenham (Eel Pie), which had a very creatively supportive framework and feel, and I felt very lucky to have been given support and encouragement from someone I admired greatly. He kindly lent me a four track recorder and mixer without conditions, just to encourage me, which was brilliant. The developmental stage of an artists' development are the most tricky and critical, and support during this phase is the most valuable. The single itself didn't take the world by storm, but gave greatly increased credibility to my written work, and I went on to have ongoing relationships with several publishers.
Playing drums at his request on his Empty Glass album, notably on the tracks Jools and Jim and Keep on Working, did great things for my confidence too. The Eel Pie studios also had a powerful video editing suite, and Pete was also good enough to allow me access to these. I was at that time captivated by the possibilities of a machine called a Fairlight CVI, a powerful video effects processor enabling imaginative real-time manipulation. The unique blend of atmosphere Eel Pie had of music, recording, diverse creativity of all kinds and Pete's devotion to Meher Baba gave it a unique atmosphere I will never forget. He was throughout this whole period, an attentive listener, an honest critic and a very generous supporter, making him one of a very rare breed in the music business
The First Turning of the Wheel

In 1989, after some early dabbling with instrumental music writing which combined both energetic and jazzy elements with some more contemplative and melodic pieces, I wrote my first commercially released album The Great Wheel. Pete Townshend had suggested producer Philip Bagenal, who he felt would be suitable, whose work with Man Jumping had caught Pete's ear. The title track 'The Great Wheel' started out as an experiment to see how smoothly I could make transitions between a cycle of chords, so as to create a strangely timeless and infinite kind of feeling. This track was selected by the American Radio Syndicator Soundscapes as their song of the year in 1990, amongst other artists such as Enya.
I learnt early on that music genres are important especially for record shops and the industry, but from an artistic and creative point of view less helpful, and their existence decrease the chances of something musically interesting coming into being rather than help it. Now that people are able to opt to download individual tracks this becomes less an issue, although finding hidden treasures can still take time and persistence to unearth. The new sampling technology that had descended from the elitist realms of massive expense to general affordability empowered me with the first keyboard, whose palette of sounds was broad, orchestral and inspiring. Suddenly I could write for harp, strings, oboes etc whilst combining the experimental and electronic techniques I had discovered. So it was The Great Wheel came about, and my life as a commercial artist began.
Unhappy with the options I could find for UK release of this album, I founded a new label with publisher John Gale - Lumina Music. John was always one of the more imaginative and original publishers to have bought my music. This provided me a major education in the whole mechanics of recording, producing and marketing an album. For a while needing to put in serious time to the logistics of organization of the label took me away from the creative roles of writing and recording, but also provided me some valuable insights. Luckily for me The Great Wheel was taken up by U.S. label Music West. Their major success with Ray Lynch (Deep Breakfast etc) gave me a great platform from which to develop my recording artist identity. Allan Kaplan owned the label, and it was it thanks to his vision that I got signed. Though Music West is no more, he remains a friend today.
Meditations in Colour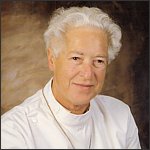 In the meantime I had been thoroughly intrigued and captivated by meeting Vicky Wall from Aura-Soma, which to simplify is a personal growth system, using colour therapy as a main resource, and reference (though it has grown and expanded much since then). Encountering Aura-Soma coincided for me with a profound phase of inner change. It became clear to me how closely the journey of self-discovery links to music and the emotional spectrum it contains, and the quality of people I met at Aura-Soma provided ideal company for such a transitional phase. Most importantly perhaps I gained a sense of validation for following my intuitive self, and moving beyond the confines of intellect and education, though these are of course both useful.
Vicky herself was a highly charismatic and quite theatrical soul, though also blessed with a disarmingly grounded sense of humour. She visited my studio with Mike Booth (who would later lead and become director for Aura-Soma), and recorded a meditation over the Great Wheel title track from that album, called The Great Rainbow Wheel. This was recently released on CD (after many years just on cassette), and is available from Aura-Soma. Subsequently Mike has consistently been a co-creative companion.
As recently as January of 2009 we jointly completed a double CD project - 72 Angels of the Kabbalah, available through Aura-Soma. The second disk contains two pieces I composed specially for the project - 3 Angels and the Archangeloi. The adventure with the Lumina Label fostered other albums notably Night Music by the extraordinary pianist I had seen demoing the Yamaha midi grand piano - Dominic Alldis, and 'Dream Jungle' by John 'Rabbit' Bundick - keyboard player with the Who. This latter involved sessions with Dave Gilmour on guitar, whose expertise, speed and excellence were remarkable.
Exploring World Music

World music and its breadth of expression intrigued me and this led me to my first album in this area - Globalarium in 1993. Musical collaborations with the likes of Joji Hirota (Real World), and Hossam Ramzy (Arc Music) enriched the mix. The musical direction was diverse, but resonated enthusiasm at the idea of combining the rich qualities of these cultural sources in a freeform celebration. By this time Music West had folded, and out of several interested labels I selected Silverwave, based in Colorado. This was the first album where at the mixing stage I was joined by my friend Grahame Gerrard, an extraordinarily gifted master of tone, sound spectrum and effects, who has over the years made enormous contributions to the quality of my finished mixes. His no-nonsense down to earth Northern sense of humour has also cheered me on many a bleak day, and he is a real brick.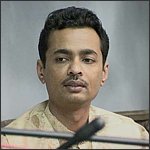 Another broad world exploration came in the form of Raising the Rhythms album, which I wrote for New World Music in 1999. There is a very percussive emphasis to this album; tabla player Sandeep Raval was a sterling contributor, as was the conga player Miles Bould, both of whose highly individual playing styles bring much character to the music. Also using sax and trumpet as I do on this album, though I never really think of myself as a jazzer, I realised I was starting to wander from the more cautious category conscious approach that might avoid these. But for me this was all music, and I love sax and trumpet as instruments.
Earthy Flavours

Some of the collaborators in creativity along the way have been very striking. One such is the extraordinary Rory Baxter from Australia, who I met originally as the talented graphic designer for Aura-Soma, but also an excellent and original musician, playing didgeridoo and djembe. Wishing to explore possibilities with a new drum he had been given for a birthday, we recorded a piece called Pemulwuy. This would become the first track of Feet in the Soil, the album released in 1995, and to date my bestseller. This album has a strongly African and Aboriginal flavour, and has a very earthy flavour, recorded as it was in the ten sustained weeks of heat wave of 1995. The idea of the album was encouraged by Mike Booth from Aura-Soma who also takes part by singing on the track Ocean of Dreams, as does Claudia Booth his wife, who also sings, along with other people connected with Aura-Soma.
A remix of the Pemulwuy was created by German DJ's and is available as a single (1996). There was also a second volume titled Feet in the Soil 2, released in 2000, which again features the didge and drum playing of Rory Baxter. Providing music to accompany meditations at Aura-Soma has led to composing other music of a relaxing nature as for example Dance Of the Light (1995), and Rivers of Life (1996). It is an interesting exercise writing music for meditation. In providing room for the voice providing the meditative journey a quality of calm, ambience and space enters the music. Then if that voice is removed, the space remains.
The Indian Connection

A holiday in Rajasthan in 1997 provided great inspiration which led to the writing of Tigers of the Raj album in 1998, and also to a whole relationship and fascination both with India and Indian musicians. Sandeep Raval, a UK based Indian multi-percussionist was very helpful in both increasing my understanding of the music, and introducing me to many excellent Indian musicians based in the UK. A whole year went into the writing, researching and recording of this album, and contains performances from 22 musicians. It was gratifying, when I sent a copy to Pete Townshend, to have a letter from him in reply where he described it as 'utterly magnificent'. Having spent this much time and effort, I was also keen to see how this music could be interpreted by DJ's, and an album of remixes was created Tigers of the Remix (1999). This same album was later repackaged by New Earth Records as Kali Thunder (2001), but is in every respect other than packaging an identical album.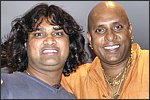 The Indian theme in my music has found further expression in my collaborations with virtuoso / showman extraordinaire Sivamani in the album Drums on Fire (2002). In 2008 several years of collaborating with the amazing singer Mahesh Vinayakram, to whom Sivamani had introduced me whilst recording Drums on Fire, culminated in the release of Bravado Masala. Mahesh and I also joined forces to perform live for a wedding in December in Delhi, and also performed together in January in Bombay, Chennai and Jaipur. This visit also offered a chance to perform with Sivamani. Read James' full account of his travels in India.
Musical Interpretations of Colour

Other collaborations have included the musical interpretations of colour commissioned by Aura-Soma with Irish harpist and singer Madeleine Doherty. The result, Colours of Trance, is a bold exploratory album not trying to climb into any constrictive frame, and Madeleine a marvelous, rhythmic player with a lyrical touch and expansive sense of creativity, and a great sense of humour. As before Aura-Soma were the instigating force for this and Mike Booth again himself took part. He and I also collaborated on a joint album in 2001 - Atlantean Chants. This was an original and unusual approach to combining his singing with instrumental backings, and remains popular with his workshops and teachings today.
Drumcircles and Stones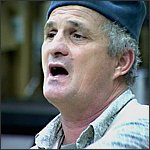 Fascination with drumcircles led me to meet the ever charismatic and playful Arthur Hull. On his regular UK teaching we regular meet and write together. After three such years we released our first album together Sounding the Stones (2003). During 2008 we co-wrote three tracks which we released as an EP, entitled 'Who's Counting?' The title track is a whimsical comment on the credit crunch. Towards the end of the track a voice can be heard saying 'This will never add up......' Tongue in cheek though this, it appears to be more and more accurate!
Other albums released have been compilations of re-releases of music. Shaman Drums for example released in 2002, contains tracks from Feet in the Soil, Feet in the Soil 2, Tigers of the Raj, Drums on Fire and Colours of Trance. Worlds Within the Wheel combines tracks from The Great Wheel and Globalarium.
Acquiring a hammered dulcimer in 2004 led to the 30 minute composition The Lotus Path. This then formed the hub of the album of the same name, and was completed with other more introspective pieces, and also enjoys performances from Suzanne Bramson and Nigel Shaw.
It is easy to be overwhelmed by the quantity of music about in the world, though it remains a highly personal and emotive means of expression. Though its value to the world gets materially downgraded, in real terms it has never been more key to providing inspiration and hope through difficult times. My father taught me to feel fully naturally at home in the world of music, and the impulse to write,record and perform music remains strong, and I hope to continue enjoying the extraordinary leaps of technological progress to find new and better ways to create and present that music.
Live Performance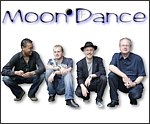 Since moving down to Eastbourne five years ago, I have enjoyed drumming with a number of different acts:- Jazz keyboard player Rod Pooley, Rock 'n' Roll band Tony and the Saints, Eastwest Jazz Band, Caribbean Band Sun, Boogie Woogie King - Big Al, Jazz Pianist Peter Willson and others.
Currently I play regularly for ceilidh band MoonDance, and enjoy their uniquely spirited and rocky approach to interpreting jigs, reels and the other music that makes up ceilidh. A lot of people don't know what ceilidh is, but really it's a dance event in which all are invited to take part, led by a caller, who gives instructions as to the movements of the dance. It's particularly popular at weddings and has an amazing ability to dissolve social barriers with fun, and create a warm atmosphere.
We have performed concerts in many different parts of the UK, HMS Invincible, corporate events, public dances, and took part in the Fairbridge Festival near Perth in Australia in April of 2008. We have recorded three tracks which are intended to be part of a forthcoming album, and these will be released soon via the Starfield label through the digital outlets of iTunes, eMusic, etc
Some of the musicians from this band also joined me in the wedding performance in India in December 2008. I also made a visit to India in January 2009, and made appearances in Bombay, Chennai and Jaipur. This was appearing as the James Asher Group.